Easy data transformation without scripts and programs
Today's organisations depend on data. Data drives decisions and decisions drive businesses forward. However, without the transformation benefits that MFT offers, the task of extracting and managing data can be daunting and full of complexity. Getting disparate systems with different languages to talk to each other requires advanced skills.
Extract Transform Load (ETL) tools exist that could carry out the data transformation process for you, but these are costly and often not user-friendly. You'd need to invest in transformation software and many organisations don't have the specific skills required to integrate and feed these tools in-house.  Configuring an ETL tool without specialist skills provides a hotbed of opportunity for errors in data transformation.
What is MFT data transformation?
Using Managed File Transfer, organisations can slice and dice data, extracting key information from one field and mapping it to another. They can lift and shift it between platforms, even if this means converting data from CSV files to fixed width text, XML, JSON or EDI formats and back again on demand.
If data from your CSV file needs importing into a CRM system, MFT data transformation can identify and extract data from relevant columns and map it to specific fields. However, should the CRM system require it in JSON format, the MFT platform can transform the data as it shifts it.
Why use MFT for data transformation?
Quick, easy and accurate data mapping
MFT can provide a data mapping wizard, enabling all users, even those without specialist technical training, to quickly and easily map one column to another field in disparate applications.
Schedule transformation tasks to run when they're needed
When used with MFT automation, data transformation can be run on a trigger such as the data arriving, or at specific times as part of a workflow, integrating data into systems. It can extract key information, incorporate it into communications, send these communications, generate invoices and relieve the administrative burden of day-to-day business in many other ways.
Intelligent file identification for data processing
Your MFT system can follow administrator-set instructions as to how a file should be recognised and treated based on the type of file it is. For example, if an EDI file is of type 850, the system at either end can recognise this as a purchase order. It can then set instructions or workflows established by administrators. These could include formatting the data in a particular way, removing some information from an existing EDI file, or changing the look and feel of the file to generate a different message. It may send back an acknowledgement, then extract the EDI message, product specifics, cost and any other critical information to generate an invoice. As it follows user-created instructions on how to treat the data it has received, it can shift the data in the file into different formats, changing the language required by the receiving system.
Boost the RoI on your MFT
And, if you already have an MFT automation module, transformation will already be a part of your platform. This means that choosing to use MFT transformation isn't a decision about whether to invest, but about getting the best return on your investment.
A corporate benefits company realised the potential of MFT's data transformation power to save money by migrating transformations away from Dell BOOMI.
MFT was already moving the data between the systems, providing the information via SFTP. By using automation and data transformation capabilities, they were able to integrate the end-to-end process into their MFT system.
A file was generated by the end customer's platform, deployed on premise and encrypted using PGP, before being uploaded to the MFTs SFTP listener. By adding a simple trigger in MFT, the system efficiently identified that a file had arrived and, by knowing which user it came from, had decrypted the file with the corresponding PGP Private key.
Once decrypted, a pipe delimited text file was ingested by the MFT platform and manipulated to meet the business outcomes required. All fields were renamed, some fields removed entirely, and new items inserted where needed.
Logic was applied to single fields and combinations of fields to insert data or alter the data in those fields as a result. Timestamps and dates were moved to different formats before the resulting 90+ field, pipe delimited file was encrypted using the customer's appropriate public PGP Key and made available for download over SFTP.
Motor Manufacturer
A British motor manufacturer needed a platform to integrate with their legacy systems and securely move 50,000 data files a day from both inside and outside of the organisation. Following a consultation period, HANDD helped deploy an MFT solution to assist in reliably moving this vital information to keep their production line live, provide executives with detailed performance monitoring, and improve RoI across their entire MFT estate.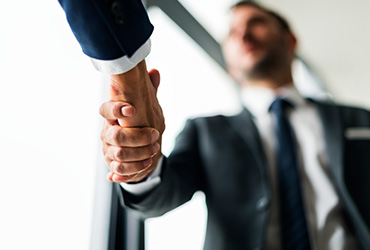 Global Accounting Firm
A global accounting organisation needed to supply a secure work area for customers to upload business-critical and confidential company information to be reviewed. HANDD assisted with the design/architecture and implementation of a global MFT system roll out which spanned three continents. The platform provided the only outward facing IP address and now forms the backbone of the client's business operations.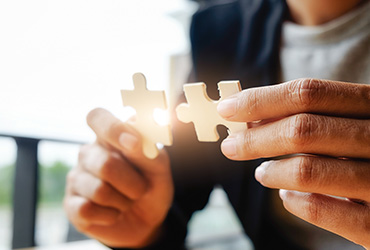 Financial Organisation
A financial organisation required a centrally managed, business-critical, secure file transfer solution that would eradicate their need to build in-house scripts for internal and external file transfers. The scripts had become extremely hard to manage and control. HANDD helped identify the best fit MFT solution for their requirements. Since then, the organisation has replaced all manual scripts with their chosen solution and are testing additional capabilities.
Download the 2023 MFT Cybersecurity Breach Report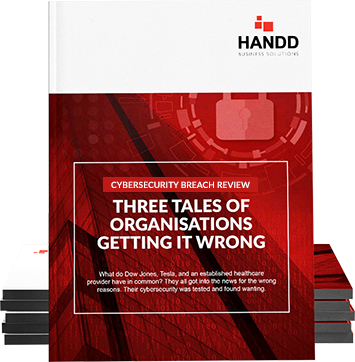 Please fill in the form and our staff will get in touch